Artist:
I Will Kill Chita
Album:
Urban Fears
Genre: Post-rock, Instrumental
Label: Raig
Year: 2012
From : Moscow, Rusia
Tracklist
01. lost 07:59
02. fear of suburbs 05:28
03. waiting for the disaster 06:48
04. red sunset 09:40
05. those who see the light 06:15
06. endless odyssey 05:00
IWKC
or
I WILL KILL CHITA
(the band's name jokingly refers to fraternal tensions between members in the past) came to be in 2008 when the Samarin brothers, Nikita and Nikolai started a chaotic punk-garage band. The search for their own stylistic terrafirma as well as competent partner-performers has continued through almost three years. The band produced two EP's and consolidated finally as a quintet of Nikolai Samarin (keyboards, guitars), Nikita Samarin (drums, electronics), Andrei Silin (keyboards, electronics), Alexander Ivanov (bass), and Artem Litvakovsky (cello). The current line-up tends to perform well composed and arranged, completely instrumental, playful and melodic form of music with certain influences of neo-classic, art-rock, neo-psychedelia, and post-rock trends.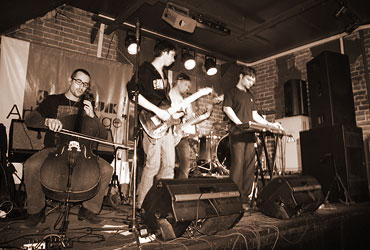 Download
OfficialSite
Buy
raig.ru